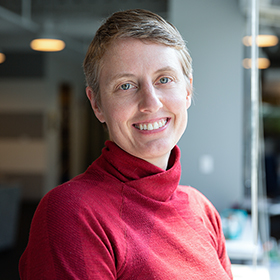 Mandy Taft-Pearman
Partner and Chief Strategy Officer, Boston
---
Mandy Taft-Pearman has been with the Bridgespan Group since 2003. She is a partner in the Boston office and is the organization's chief strategy officer (CSO). In her role as CSO, Mandy oversees Bridgespan's strategy, equity, fundraising, and marketing functions.
Previously, Mandy served as the organization's chief operating officer for ten years, and before that as an operating partner working with a variety of clients in the youth development, education, and environmental sectors. In addition, she has developed a particular expertise on nonprofit networks, having served many different network clients of varying sizes, missions, and legal structures. Mandy is the co-author of two Bridgespan articles: "Getting Replication Right: The Decisions that Matter Most," and "Growing Network Impact: How Nonprofit Networks are Raising the Bar on Results."
Prior to joining Bridgespan, Mandy worked for the National Safe Kids Campaign, a national network focused on children's public health, and served as an independent consultant for several other nonprofit organizations. Mandy has been active as a volunteer with many nonprofits over the years, most recently serving as a board member of Hale Reservation in Westwood, MA.
Mandy earned her BA in History from Yale University magna cum laude and her MBA from the Kellogg School of Management, where she was an F.C. Austin Scholar and president of the school's Social Impact Club.