Bridgespan's Nonprofit Development Program
Capacity building of nonprofit and social enterprise leadership teams through cohort-based team coaching.
---
This program is for organisations located in Asia. If you are based in another country, please explore our Leadership Accelerator program.
NGOs typically operate in resource-constrained environments while trying to maximise their impacts. Our research suggests that strategy and talent issues are some of the most important issues that, if addressed, can unlock the true potential of NGOs. Leadership teams of NGOs and even social enterprises in Asia need to consistently take care of these issues but often don't get the time and the support they need.
Bridgespan's Nonprofit Development Program takes advantage of our experience working on nonprofit strategy, leadership, and organisational issues during the last two decades to provide coaching to the senior leadership team of NGOs in the domains of strategy and talent.
We believe change is driven by a team and not an individual. Therefore, our three-month online capacity-building modules are designed specifically for NGO/social enterprise leadership teams of three to six participants. (The typical team structure includes the CEO/ED, a project lead, and other members of the senior leadership team.)
The four modules address strategy and talent issues:
Achieving Strategic Clarity module: Helps organisations develop clarity on key elements of their strategy such as their target populations and the impact they intend to achieve, as well as create a draft theory of change on how they plan to achieve it in the next three to five years. (Learn More)
Investing in Future Leaders module: Helps organisations enhance their talent development capability, ultimately enabling them to build a second line of leadership over time. (Learn More)
Creating an Adaptive Plan module (to be launched in 2023): Helps organisations create an actionable short-term plan to respond and adapt to the changes in the external and internal environment. (Learn More)
Strengthening Executive Teams module (to be launched in 2024): Helps leadership teams learn and apply best practices to work together more effectively and inclusively.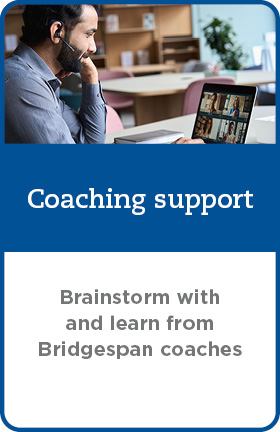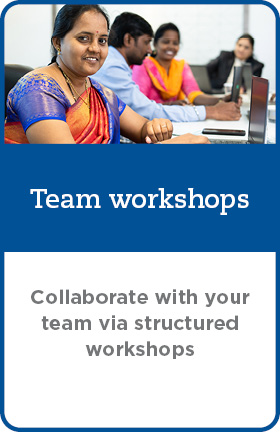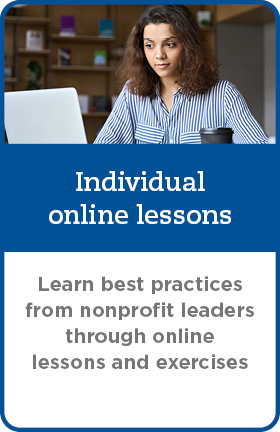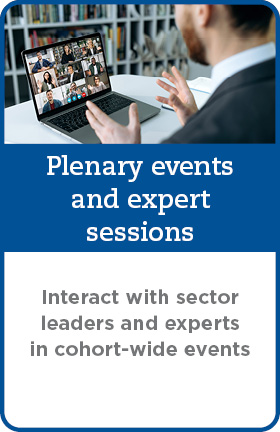 The total time commitment per person amounts to three to four hours per week over the course of the program (12-14 weeks).
The online learning platform allows you time to work at your own pace. While the coaching support ends after the third month, the content on the platform will be available for five months from the start of the program.
Your team is in the driver's seat, while Bridgespan coaches provide support for your project lead via email, check-ins, and one-on-one coaching at critical points throughout the program.
In addition to the above interactions, the program incorporates opportunities to involve your key partners and funders in select meetings.
Currently Available Modules
Find out more about our active modules by clicking the boxes below.
What Our Alumni Have to Say About Achieving Strategic Clarity
"It was indeed a great experience to attend ASC through an extremely structured BNDP approach. This process has helped us to build a very coherent and focused team, aligned to a common purpose with well-defined 3 to 5 years targets. ASC structured concepts and case studies gave us opportunity to build some compelling value propositions in our field to create large scale impact."
–Amit Gupta, Founder, Grey Sim Learning Foundation
"Achieving Strategic Clarity, as the name suggests, truly helped our organisation to relook at our strategic priorities and go to the basics of the Why, the What and the How of our work. The pointers, questions, guidance, and resources provided in this programme enabled rich conversations among the leadership team members at Atma and helped us think through many simple yet complex aspects of work viz - What we do versus What we DO NOT do and Why. We strongly feel that this is a journey that every organisation should go through and keep performing this exercise throughout the lifetime of the organisation."
–Abhijat Bedekar, Chief Programme Officer, Atma
"The program allowed the team to think beyond their current functional roles and align together from an organizational lens to redefine the TOC & II. The framework of the program supported in building the pathway and simplified a mammoth task into actionable insights."
–Rahul Vincent, Senior Manager Projects, and Ami Patel, Director Business Development and Collaborations, Industree Crafts Foundation
Pricing
The program's true cost is INR 8.75 lakhs (approximately USD 11,000) inclusive of taxes for a team of 3 to 6. However, if you are a nonprofit/ social enterprise applying directly, our fees ranges between INR 2.5 - 8.75 lakhs depending on your eligibility for a scholarship. Please reach out to us [email protected] to know more.
How to Apply
Our next cohort on 'Creating an Adaptive Plan' is starting in May 2023. If you would like to participate, please contact us at [email protected] or visit this page to submit your application form by March 31, 2023. We will review your response and reach out to set up a fitment call. Applications for Investing in Future Leaders and Achieving Strategic Clarity cohorts will open shortly.