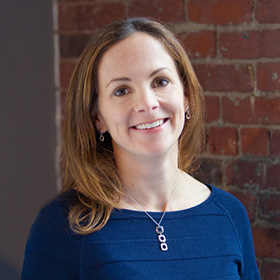 Maggie Davies
Partner, San Francisco
---
Maggie Davies is a partner in The Bridgespan Group's San Francisco office. Maggie has advised clients including large foundations, high net worth individuals, and operating nonprofits on strategic planning, organizational effectiveness, new programmatic initiatives, and funder collaboration.

Prior to joining Bridgespan, Maggie spent six years as Deputy Director, COO, and then Chief Strategy & Talent Officer at Net Impact, a global nonprofit that inspires young people to use the power of business to create a more sustainable world. While at Net Impact, she led programs, strategy and planning, evaluation and metrics, talent and operations during a period of significant growth.

Previously, Maggie spent six years as a management consultant with the global consulting firm Bain & Company in the San Francisco and Sydney offices. While at Bain, Maggie helped clients in a wide variety of industries including retail, technology, media and private equity on projects ranging from growth strategy to organizational and profit improvement. Among her favorites were projects with two major Bay Area nonprofits looking for ways to grow and maintain financial stability.

Maggie was selected by Independent Sector as a 2013 NGen Fellow, served as Board Member and Treasurer for a San Francisco performing arts nonprofit, and has long enjoyed volunteering in community service. She has written and spoken on performance management, talent development, and increasing diversity in the social sector.

Maggie holds a Master and Bachelor of Engineering from the University of Michigan, and an MBA from the Stanford Graduate School of Business, with a certificate in Nonprofit Management.