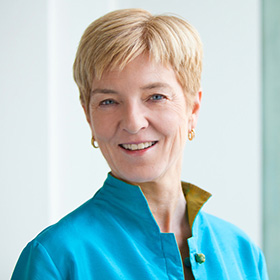 Jeri Eckhart Queenan
Senior Advisor, New York
---
Serving for over 13 years as partner in The Bridgespan Group's Boston office, Jeri Eckhart Queenan has recently joined the firm's New York office as senior advisor, benefiting them with her many years of experience of leadership in the private, public, nonprofit, and faith sectors.
For over ten years, Jeri spearheaded Bridgespan's Global Practice, traveling to 50 countries on 6 continents, launching Bridgespan as the global organization it is today. Her work at Bridgespan includes precedent-setting projects with Goldman Sachs' 10,000 Women, an initiative that has achieved strong measurable results by empowering underserved women entrepreneurs in over 60 countries and the Ford Foundation's $1B BUILD program. She has led similar high-impact engagements with The Bill & Melinda Gates Foundation, The MacArthur Foundation's 100&Change, Azim Premji Philanthropic Initiative, Salvation Army, Children's Investment Fund Foundation, United Nations Foundation, Camfed, Global Teen Challenge and Catholic Charities DC.
Jeri directed Bridgespan's multi-year initiative to end the nonprofit starvation cycle, as she previously described in two popular articles, "
Pay-What-It-Takes Philanthropy
," (
Stanford Social Innovation Review
, Summer 2016) and "
Stop Starving Scale: Unlocking the Potential of Global NGOs
" (Bridgespan.org, April 2013). This ultimately culminated to a momentous
2019 announcement
by five major foundation presidents that they would improve their funding practice. Jeri has co-authored additional articles on women's entrepreneurship, scaling impact, and performance measurement including "
Designing for Transformative Scale: Global Lessons in What Works
," (
Rotman School of Management Magazine
, January 2015) and "
Measurement as Learning
," (Bridgespan.org, April 2011). She is a frequent public speaker with recent talks at the InterAction Forum, Global Philanthropy Forum, Vatican Impact Investing Conference, MacDonald Conference for Leaders of Character at West Point, and the Harvard Global Development Conference.
Prior to Bridgespan, she served as a senior official in the Executive branch of government, first as White House Fellow and then Associate Deputy Secretary of Labor, overseeing line agencies with a combined annual budget of $28 billion. She led several Cabinet-level working groups on pension reform, steel industry restructuring and child care policy during her tenure. Later, she served as chair and CEO of the White House Fellows Foundation in Washington, DC, president of the White House Fellows Alumni Association, and five-year member of the President's Commission on White House Fellowships.
Jeri began her career in the corporate sector at the Boston Consulting Group, where she advised multinational corporations in health care and telecommunications and was promoted early to manager.
Jeri currently serves on the board of Leadership Roundtable, and has served on many boards over the last 25 years, including Catholic Relief Services, St. Vincent College, MicroEnsure, BOMA Fund, National Organization on Disability, Langley School, and Reliance Insurance.
Jeri graduated Phi Beta Kappa/summa cum laude from UCLA and received her MBA with honors from Harvard Business School. Jeri is married to Charlie Queenan and they have four adult children.