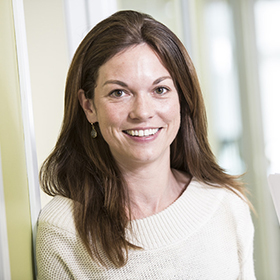 Betsy Doyle
Partner, San Francisco
---
Betsy Doyle is a partner in The Bridgespan Group's San Francisco office and head of Bridgespan's philanthropy practice. Since joining Bridgespan in 2001, Betsy has worked extensively with both nonprofits and philanthropists, with a focus on increasing the flow of funds toward breakthrough social change. She has supported many high performing nonprofits with strategic and scale planning and organizational effectiveness. She has also advised institutional and individual donors on their outcome-driven grantmaking.

Betsy's philanthropic advising engagements include work with both institutions and individual philanthropists on program-level strategy, portfolio support, and special projects. In recent years, she has led Bridgespan's work with TED and The Audacious Project, an innovative funding platform to put bold ideas for social change into action. She has also supported several donor families with sourcing and diligence, in service of funding high performing, US-based organizations focused on social and economic mobility.

Until recently, Betsy led Bridgespan's Education Practice. In this role, she worked with organizations and public agencies pursuing large-scale initiatives focused on increasing college and career readiness among low income youth. She has supported place-based education reform, efforts to strengthen talent and leadership pipelines and on scaling high performing charter and school turnaround models. Based on these experiences, she has co-authored a number of pieces, including "Transforming Schools" (Bain.com, January 2016), "Starting Over After Starting Up" (SSIR.org, September 2015), "Local Philanthropists Work Together to Transform Public Education" (Bridgespan.org, September 2014), and "Rethinking High School Turnarounds" (Bridgespan.org, January 2013). Betsy has also supported planning initiatives with a number of youth-serving networks and multi-service child welfare organizations, including Youth Villages and The Children's Institute in Los Angeles. She is also co-author of one of Bridgespan's most popular management publications, "Business Planning for Nonprofits" (Bridgespan.org, February 2006).

Prior to joining Bridgespan, Betsy worked at The Family Academy (now the Urban Education Exchange), a nonprofit in New York City focused on developing and scaling effective literacy curricula and teacher training. She also worked at Scholastic, Inc., the global publishing, education and media company, in the strategic marketing group. Betsy is a graduate of Princeton University, where she graduated summa cum laude and Phi Beta Kappa. She received her MBA and MEd, both from Stanford University. She currently lives outside of San Francisco with her spouse, three young children and dog.